Welcome To Bravo Construction
Bravo Construction is a complete outdoor living construction company. We specialize in transforming your backyard dreams into reality. Just think of inviting your friends and family over for a weekend pool party or a summer barbecue. Bravo Construction can help you turn your space into a fully customized entertainment area.

Since 2001, Bravo Construction has been creating beautiful backyards that fit your home and your budget. Whether it's a stamped concrete patio, outdoor kitchen, or a rock swimming pool, Bravo Construction has the skill, experience, and ability to give our clients the highest quality craftsmanship available. We are extremely passionate about all the work we do. Be it design, permits and construction or customer satisfaction our attention to detail will not be out done.
We Offer the Following Services:
• Decorative Concrete
• Swimming Pools and Spas
• Natural and Artificial Rock
• Waterfalls
• Waterslides
• Grottos
• Lagoons
• Caves
• Streams
• Bridges
• Outdoor Kitchens
• Pool Houses and Cabanas
• Pizza Ovens
• Wood and Gas Fire Pits
• Cast and Polished Concrete Counter tops
• Stamped and Stained Concrete
• Patios, Walkways, and Driveways
• Retaining Walls and Garden Walls
• Shotcrete and Gunite
• Landscape Boulders
• Design, Engineering, and Permitting
• Rock Staining, Painting, and Recoloring
• Concrete and Rock Resealing
• Swimming Pool and Spa Remodeling

BarrelTops
Bravo Construction is the original creator of BarrelTops. These BarrelTops are top of the line, custom made concrete counter tops that turn a standard wine barrel into a bistro table. We have taken our concrete counter top design, which we have been using on indoor and outdoor kitchens for over 10 years, and created what we call BarrelTops. There are so many colors and different finishes available, the possibilities are limitless, including logo etching of your winery or company logo onto the surface of the top. BarrelTops work perfectly for use in tasting rooms and out on the backyard patio. BarrelTops also are easily handled and stacked for storage and transportation. They work great for all events, such as, weddings, banquets, and festivals.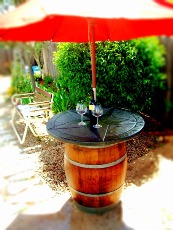 Serving Paso Robles, Atascadero, Templeton, San Miguel, San Luis Obispo, Pismo Beach, Santa Maria and all surrounding cities